Congrats to Senior Musketeer Brenn Wilson and Sophomore Musketeer Annabeth Ohlau on earning All-Cahokia Conference honors at this week's Cahokia Conference Golf Match. Great job ladies!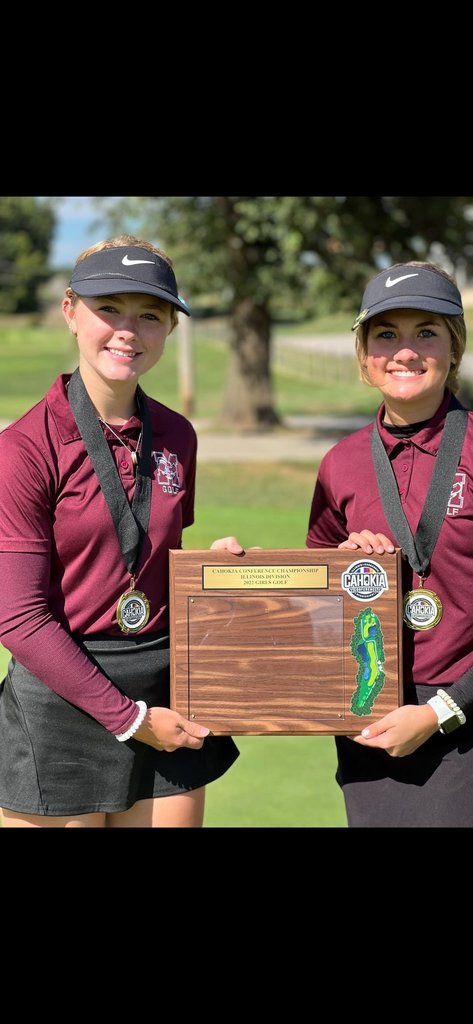 Congrats to junior Musketeer Ryker Papenberg on earning All-Cahokia Conference Golf honors at the Conference Tournament, shooting his way to 5th place.

Red Bud FFA is hosting plant sales at the campus greenhouse: Sept 2nd, 3:00-5:00 Sept 3rd, 8:00-Noon Come out and get some plants.

Reminder: Incoming freshmen & students coming from out of state must have an up to date physical and immunization record to enroll. Seniors need a meningitis booster. If you have questions, please email our district nurse, Tammy Kueker, at
tkueker@redbud132.org
#redbud132

RBHS has the following opportunities available: Paraprofessional - email
aguehne@redbud132.org
Frosh boys basketball coach & assistant cross country coach - email
dwalter@redbud132.org
Let's talk about how you can work with & help impact our great Musketeers! #redbud132

Orientation for freshmen and new students is Thursday, August 11, at 6:30 PM. Students & parents/guardians are invited to attend. See the attached flier for more details. We look forward to seeing you then! #redbud132



There will be a meeting for all BOYS interested in RBHS golf on Tues, July 12, 8:00 AM at North County CC. Contact Coach Quigley (
bquigley@redbud132.org
) or Coach Walter (
dwalter@redbud132.org
) if you have any questions.

Information for the Class of 2022 Graduation Ceremony can be found below: Date: Friday, May 20 Time: 7:00; Doors open at 6:00 Location: Main Gymnasium Guest limit: We are not issuing tickets this year. Graduates are asked to limit themselves to roughly 10 family members/guests in order to comply with our occupancy requirements. Accessing the building: The main gym doors on the south lot will be open. The northwest doors (those between the old and new wings of the building) will be open for those parking in the north (old) lot. Only graduates will be permitted to enter through the main office entrance. If you have questions, please feel free to contact the RBHS office.


RBHS recently celebrated National Decision Day with our seniors. We're proud of the Class of 2022, and can't wait to see them be successful in the next phase of their lives. Check out this video to see their plans:
https://www.wevideo.com/view/2667773359
#redbud132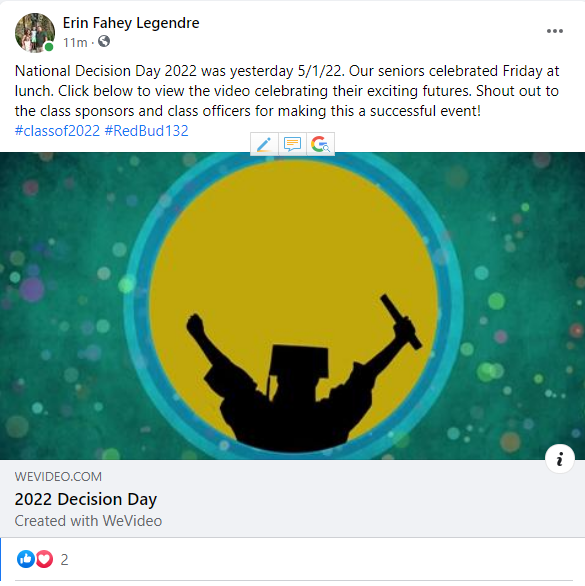 We are celebrating Teacher Appreciation Week with the wonderful staff of Red Bud High School. We are lucky to have these great, dedicated staff members. We thank them for all they do, this week and every week.

We'd like to wish a happy Administrative Professionals' Day to our RBHS secretaries, Ms. Sharon Koester & Ms. Debbie Koester, and to our co-op program student worker, Maggie Dufrenne. We appreciate these ladies today & everyday. #redbud132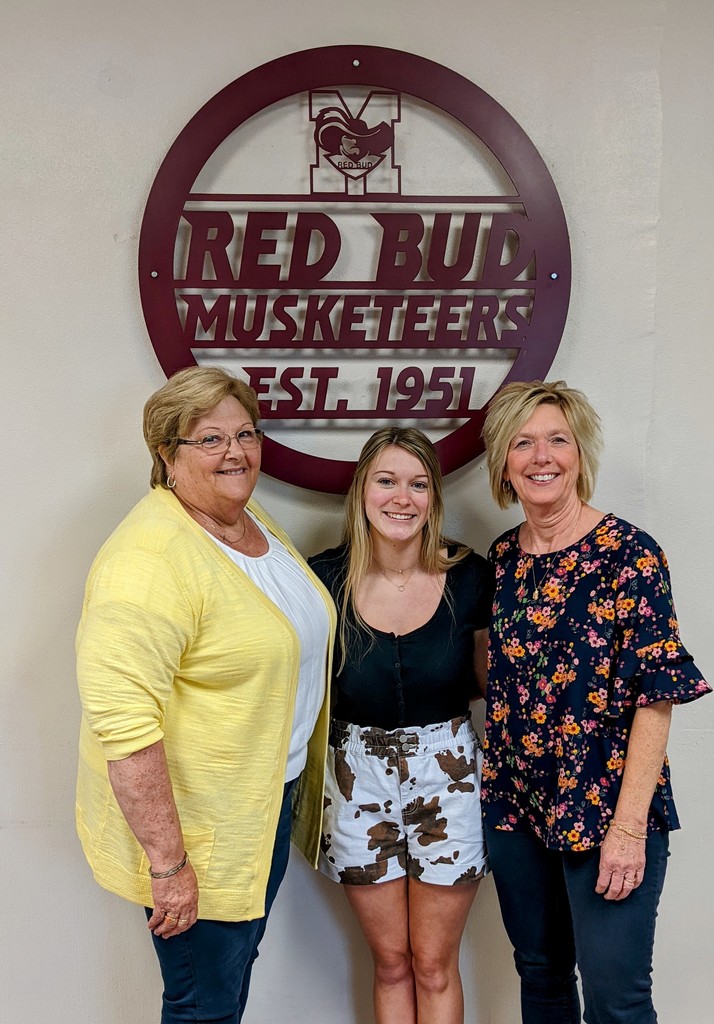 The RBHS Spring Fine Arts Show will be Sunday, April 24. The art show starts at 3:00. The band & chorus concert starts at 4:00. Both will be held in the RBHS auxiliary gym. #redbud132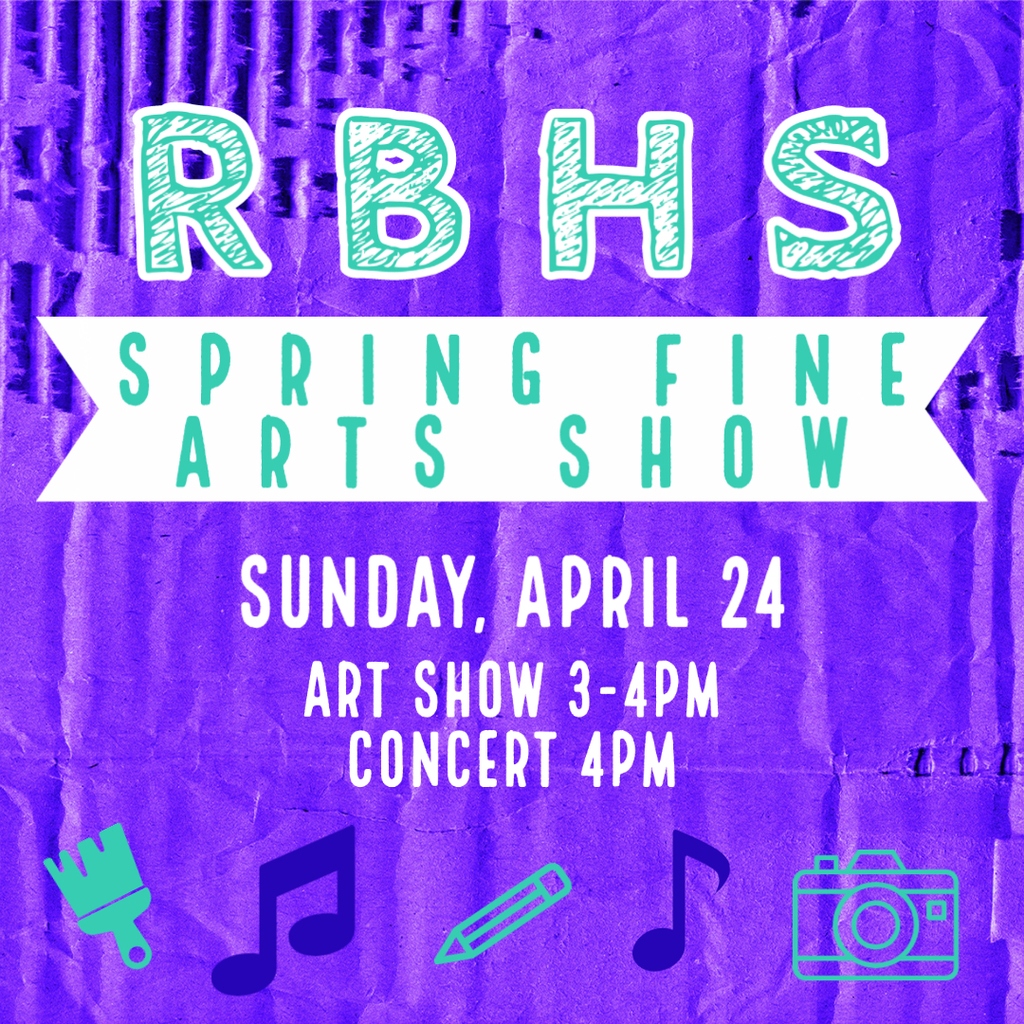 RBHS FFA Easter weekend plant sale! Wide variety of plants available, including landscaping, baskets, & garden vegetables. Thurs 3-5; Fri 9-3; Sat 9-1; Mon 9-3 #redbud132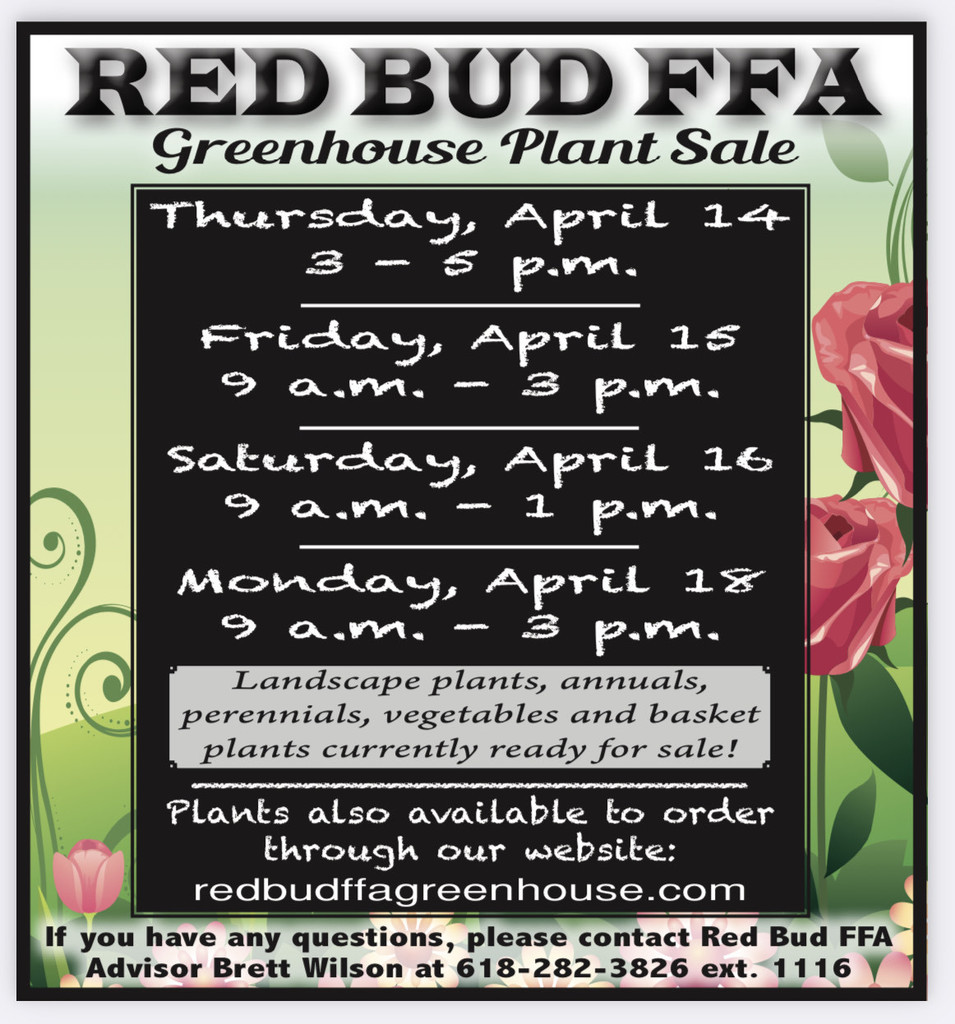 Opening night for RBHS Drama Club's showing of "Hooray for Hollywood" is tomorrow! Come out and see these talented Musketeers in action. See the attached flyer for details. #redbud132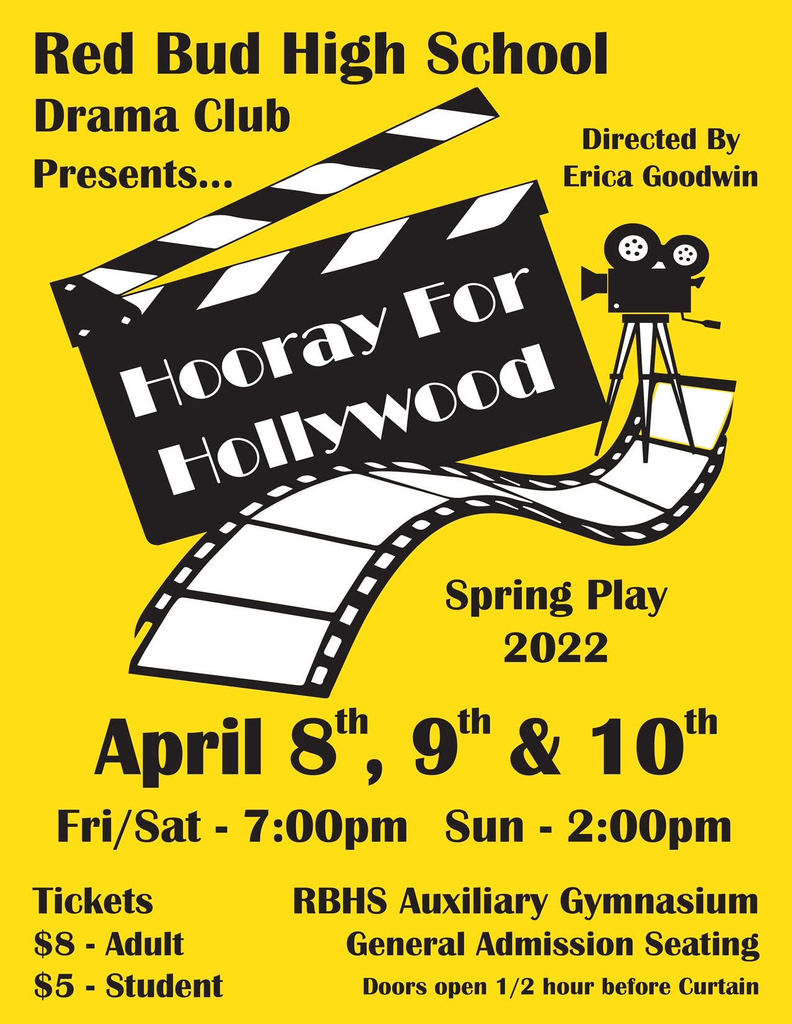 POST PROM will be held immediately after prom at RBHS on 4/30. Doors will open at 11:00 and the party will end at 3:30. There will be food, music, and games, along with OVER $3000 in prizes given away. Come out and have a great time. #redbud132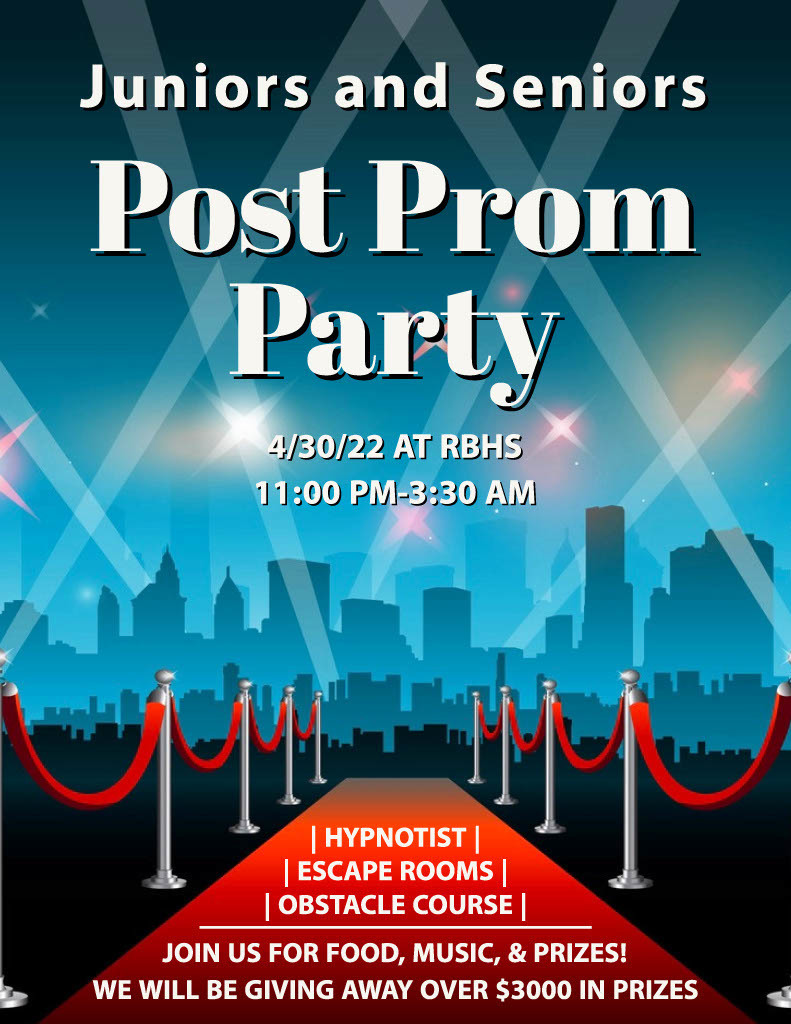 Addison Liefer is the RBHS Lions Club Student of the Month for March. Addison was nominated by Ms. Bandy & Mr. Magee for her impressive contributions to our Math & ACES teams, as well as her dedication to classwork & other extracurriculars. Congrats Addison! #redbud132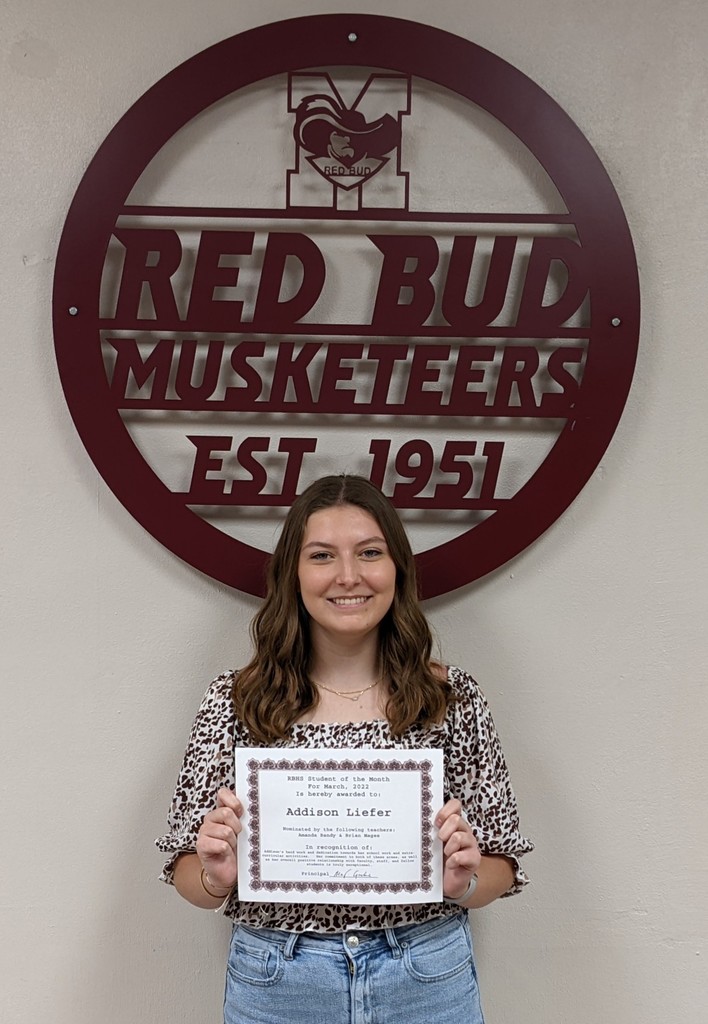 The Musketeer Drama Club will present their Spring play: Hooray for Hollywood on April 8, 9, 10. See the flyer below for show times and we will see you there! #redbud132